HTC's T-Mobile G1 stripped costs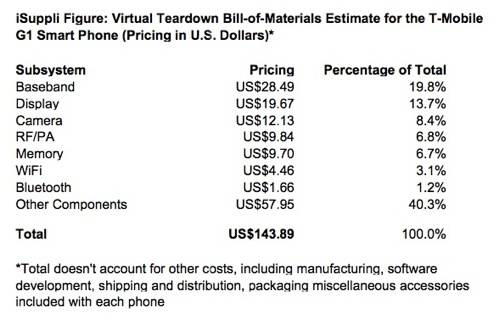 Since launch, people have been asking how much the G1 costs HTC to make. Today, CNN.com is reporting that iSuppli's latest study revealed that the HTC made T-Mobile G1 includes $144 worth of components and materials. Inevitable, the article compared these costs to those of the iPhone, which is estimated to cost $160 to produce a 8GB model. CNN does not give any details on which components make us the price difference, but we can tell you that adding an 8GB flash chip to the G1 would bring the price within a dollar or two of the iPhone.
Tech enthusiast, Android user and founder of the first HTC blog – Nick Gray has been blogging about HTC phones before most people knew what a smartphone even was. Over the years Nick has owned and tested dozens HTC devices and is constantly flashing new ROMs to his Android phones.