T-Mobile UK reveals MDA Compact IV, their Touch Diamond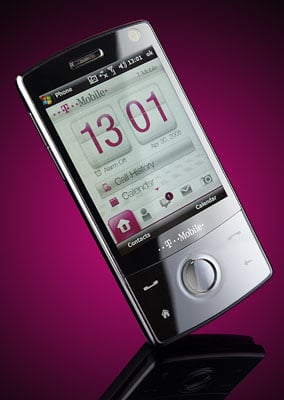 Less than 24 hours after HTC revealed the Touch Diamond to the world, T-Mobile UK has taken the cover off of their customized rendition of the Diamond. As expected T-Moble continues their naming legacy of HTC devices and has dubbed the Touch Diamond the MDA Compact IV. Even though we just reported that the Diamond would be relesed in June for European markets, T-Mobile UK has chosen to wait a few more weeks and launch the MDA Compact IV in July instead.
The MDA Compact IV seems to have recevied T-Mobile's signature majenta and white makover on HTC's TouchFLO 3D interface. This gives us hope that we will be able to customize the device's interface colors to our own liking since HTC has done suck a good job at covering up WM6.1
T-Mobile will be offering the Diamond for free to customers who opt for new select service plans. T-Mobile is the first UK service provider to announce their version of the Touch Diamond.
Tech enthusiast, Android user and founder of the first HTC blog – Nick Gray has been blogging about HTC phones before most people knew what a smartphone even was. Over the years Nick has owned and tested dozens HTC devices and is constantly flashing new ROMs to his Android phones.